A Closer Look at the Organization's History, Intent, Backers, and Destructive Agenda
Though it has dropped from the news at the moment because riots and looting were, surprise! not polling well for Biden/Harris, there is no subversive organization more important in our nation this election year, than Black Lives Matter.  It has been promoted as peaceful protestors, trying to highlight injustice, that narrative has nothing to do with the reality of the group, its goals, actions, funding or plans.  So here is a clearer look at the movement itself: BLM's history, stated views, backers, and long record of destruction.
BLM is dangerous precisely because it's so widely mis-perceived as innocuous or even as well-intentioned and good. It is not. It is a deliberate, carefully designed sabotage agent; a revolutionary movement designed to overthrow the U.S., hidden carefully by well-crafted by deceptive rhetoric.
It is not an overstatement to draw parallels to two other times in the last century when similar movements threatened other nations. Once those radical movements had kicked into high gear, and before they'd been defeated at the cost of much blood and gold, citizens who'd lived at the time recalled with shock their stunning inability to fully discern what was happening and to summon the will to stop the subsequent wholesale sabotage and destruction from unfolding:
𝐴𝑛𝑑 ℎ𝑜𝑤 𝑤𝑒 𝑏𝑢𝑟𝑛𝑒𝑑 𝑖𝑛 𝑡ℎ𝑒 𝑐𝑎𝑚𝑝𝑠 𝑙𝑎𝑡𝑒𝑟, 𝑡ℎ𝑖𝑛𝑘𝑖𝑛𝑔: 𝑊ℎ𝑎𝑡 𝑤𝑜𝑢𝑙𝑑 𝑡ℎ𝑖𝑛𝑔𝑠 ℎ𝑎𝑣𝑒 𝑏𝑒𝑒𝑛 𝑙𝑖𝑘𝑒 𝑖𝑓 𝑒𝑣𝑒𝑟𝑦 𝑆𝑒𝑐𝑢𝑟𝑖𝑡𝑦 𝑜𝑝𝑒𝑟𝑎𝑡𝑖𝑣𝑒, 𝑤ℎ𝑒𝑛 ℎ𝑒 𝑤𝑒𝑛𝑡 𝑜𝑢𝑡 𝑎𝑡 𝑛𝑖𝑔ℎ𝑡 𝑡𝑜 𝑚𝑎𝑘𝑒 𝑎𝑛 𝑎𝑟𝑟𝑒𝑠𝑡, ℎ𝑎𝑑 𝑏𝑒𝑒𝑛 𝑢𝑛𝑐𝑒𝑟𝑡𝑎𝑖𝑛 𝑤ℎ𝑒𝑡ℎ𝑒𝑟 ℎ𝑒 𝑤𝑜𝑢𝑙𝑑 𝑟𝑒𝑡𝑢𝑟𝑛 𝑎𝑙𝑖𝑣𝑒 𝑎𝑛𝑑 ℎ𝑎𝑑 𝑡𝑜 𝑠𝑎𝑦 𝑔𝑜𝑜𝑑-𝑏𝑦𝑒 𝑡𝑜 ℎ𝑖𝑠 𝑓𝑎𝑚𝑖𝑙𝑦?
—Aleksandr Solzhenitsyn, The Gulag Archipelago
𝐸𝑎𝑐ℎ 𝑎𝑐𝑡, 𝑒𝑎𝑐ℎ 𝑜𝑐𝑐𝑎𝑠𝑖𝑜𝑛, 𝑖𝑠 𝑤𝑜𝑟𝑠𝑒 𝑡ℎ𝑎𝑛 𝑡ℎ𝑒 𝑙𝑎𝑠𝑡, 𝑏𝑢𝑡 𝑜𝑛𝑙𝑦 𝑎 𝑙𝑖𝑡𝑡𝑙𝑒 𝑤𝑜𝑟𝑠𝑒. 𝑌𝑜𝑢 𝑤𝑎𝑖𝑡 𝑓𝑜𝑟 𝑡ℎ𝑒 𝑛𝑒𝑥𝑡 𝑎𝑛𝑑 𝑡ℎ𝑒 𝑛𝑒𝑥𝑡. 𝑌𝑜𝑢 𝑤𝑎𝑖𝑡 𝑓𝑜𝑟 𝑜𝑛𝑒 𝑔𝑟𝑒𝑎𝑡 𝑠ℎ𝑜𝑐𝑘𝑖𝑛𝑔 𝑜𝑐𝑐𝑎𝑠𝑖𝑜𝑛, 𝑡ℎ𝑖𝑛𝑘𝑖𝑛𝑔 𝑡ℎ𝑎𝑡 𝑜𝑡ℎ𝑒𝑟𝑠, 𝑤ℎ𝑒𝑛 𝑠𝑢𝑐ℎ 𝑎 𝑠ℎ𝑜𝑐𝑘 𝑐𝑜𝑚𝑒𝑠, 𝑤𝑖𝑙𝑙 𝑗𝑜𝑖𝑛 𝑤𝑖𝑡ℎ 𝑦𝑜𝑢 𝑖𝑛 𝑟𝑒𝑠𝑖𝑠𝑡𝑖𝑛𝑔 𝑠𝑜𝑚𝑒ℎ𝑜𝑤 … 𝐵𝑢𝑡 𝑡ℎ𝑒 𝑜𝑛𝑒 𝑔𝑟𝑒𝑎𝑡 𝑠ℎ𝑜𝑐𝑘𝑖𝑛𝑔 𝑜𝑐𝑐𝑎𝑠𝑖𝑜𝑛, 𝑤ℎ𝑒𝑛 𝑡𝑒𝑛𝑠 𝑜𝑟 ℎ𝑢𝑛𝑑𝑟𝑒𝑑𝑠 𝑜𝑟 𝑡ℎ𝑜𝑢𝑠𝑎𝑛𝑑𝑠 𝑤𝑖𝑙𝑙 𝑗𝑜𝑖𝑛 𝑤𝑖𝑡ℎ 𝑦𝑜𝑢, 𝑛𝑒𝑣𝑒𝑟 𝑐𝑜𝑚𝑒𝑠.
—Milton Mayer & Richard J. Evans, They Thought They Were Free: The Germans, 1933–45
One of the most eloquent accounts of the heartbreaking optimism that it would all just go away during the Nazi era was published by the New Criterion in its October 2020 issue in a piece authored by David Pryce-Jones: All Over But the Crying: On Lali and Freddy Horstman
Lali (1898–1954) and Freddy Horstmann (1879–1947) were a privileged German couple, aesthetes who in the 1930s wished to live without taking any notice of Hitler and Nazism. Conspiracy against Hitler was not for them. At any point in the Nazi period, they could have left the country and sought safety abroad. Instead, for reasons that seemed sound to them, they stayed, consoling themselves with the thought that the tyranny would soon pass, as tyrannies do. This misjudgment was fatal. One of the profound themes of classical tragedy is that those who make wrong decisions will have to pay for them, being authors of their own misfortune. Written directly, without art or pretension, Nothing for Tears, Lali's one and only book (1953, republished 2000), is testimony to a disastrous moment in the history of Europe, and, more than that, it has the same sort of truthfulness about the human condition as an Aeschylus play. 
This article contains details and facts to back up the claim that Black Lives Matter is in fact that dangerous, radical, and potentially destructive. 
This is not a prescription to flee, at the moment. It's a prescription to fight before it gets to be too late and the only alternative left will need to flee.
It's important to recognize the known facts about the organization's history, claims, supporters, and the effects of it on our society thus far—which include more than $2 billion in damage from the George Floyd riots alone, unmatched national polarization, and widespread discussion of the previously unthinkable possibility of civil war that in recent months has spawned a slew of published books, commentaries, and neighborhood meetings on the topic, from New York to San Francisco.
If you want a TL;DR version of this article, here's a 30-second version of what BLM represents: 
Democrat candidate John Thompson is telling a BLM mob to "burn down" the city of Hugo, MN. pic.twitter.com/AfrH6iFFo3

— Richard (@Wildman_AZ) August 15, 2020
If you're interested in data and specifics, keep reading.
Black Lives Matter: The Organization's History and Stated Aims
Beginnings
"Black Lives Matter" began as a hashtag in 2013 after George Zimmerman was acquitted of killing Trayvon Martin who'd mugged Zimmerman. It grew in power and became known nationally in 2014 for demonstrations following the deaths of Michael Brown and Eric Garner. In the summer of 2015 it became involved in the presidential election, and founders Alicia Garza, Patrisse Cullors, and Opal Tometi built the project out with 30 local chapters.
Early on it its platform was recognized as a "Marxist Horror Show" by analysts including Walter Hudson, who noted their demands included:
repeal of all immigration restrictions
destruction of the nuclear family
forced reallocation of farmland
race-based reparations, specifically: "a guaranteed minimum livable income for all black people [not just descendants of African Slaves]
legalization of all sex work
… and lots more, including banning considerations of criminal history in employment and housing decisions, an end to bail money, free college for black people, calling for massive wealth redistribution, an increased minimum wage, and an essential end to human liberty in the United States.
Black Lives Matter doesn't like Jews, or Israel. BLM supports BDS and makes the ludicrous claim that Israel is committing genocide, something that has been rebuked across the entire political spectrum: Start maybe with this article at Tablet, "From Left to Right, Jewish Groups Condemn 'Repellent' Black Lives Matter Claim of Israeli 'Genocide'," and move on to this piece from the Jewish Council for Public Affairs (JCPA) and this piece and from the Times of Israel for further detail. We'll wrap up for the moment with this: "Shalom sorry for Black Lives Matter endorsement | Rabbi Alon Meltzer: 'We acknowledge that the BLM movement, as an official organization, has a number of problematic stances – both anti-Semitic and anti-Israel'."
Rabbi Meltzer is the first guy we've mentioned in this piece who turns out to have been completely conned by BLM and lived to regret it.
Before we're done we'll meet quite a few more.
BLM's initial position statement gets more explicit:
While this platform is focused on domestic policies, we know that patriarchy, exploitative capitalism, militarism, and white supremacy know no borders. We stand in solidarity with our international family against the ravages of global capitalism and anti-Black racism, human-made climate change, war, and exploitation. We also stand with descendants of African people all over the world in an ongoing call and struggle for reparations for the historic and continuing harms of colonialism and slavery. We also recognize and honor the rights and struggle of our Indigenous family for land and self-determination.
Just this last month, in late September, a good deal of attention was finally being paid to who Black Lives Matter is and what it stands for. Guess what the organization did?
That's right. Like the Soviets before it, Black Lives Matter made its history disappear. 
The quick moment when "Black Lives Matter removes controversial "What We Believe" page from website" happened overnight. The event was covered by Fox News, The Washington Examiner, and a handful of other outlets and media figures. None of the legacy corporate media thought it worthy of notice. 
Good comrades know when it's best to leave some things unsaid. 
Black Lives Matter stands for: Destroying capitalism, replacing the family with the state, seizing private property, and state-prescribed racism
Black Lives Matter: Claims versus Rhetoric
'Black Lives Matter' is simultaneously a general statement of support and a specific Marxist organization. These definitions are at odds with each other.  David Marcus explores this in The Two Very Different Meanings of Black Lives Matter, and Ben Weingarten walks you through exactly how the phrase "Black Lives Matter" is a rhetorical facade masking Marxist ideas that would destroy the lives of vulnerable Americans in another piece aptly titled If You Really Believe Black Lives Matter, Stop Supporting Black Lives Matter.
"Black Lives Matter" is a carefully created nonsense phrase designed to miscommunicate. It is deliberately  camouflaged poison.
The rhetorical slight of hand is what allows Kamala Harris to whine at the National Democratic Convention that "we have a president who will … never speak the words 'black lives matter'" [as if Trump had something against black people] and it is what allowed Obama to disingenuously claim at the same conference that "the young people who led us this summer, telling us we need to be better — in so many ways, you are this country's dreams fulfilled."
Riiiight.
The young folks who led us through four months of looting, arson, window breaking, vandalism, intimidation, physical assaults, stabbings and shootings …. These are our country's "dreams fulfilled"!
They are the ones "telling us we need to be better!"
"we have a president who will … never speak the words 'black lives matter'"

—Kamala Harris, who doesn't seem to realize there's a principled reason for Trump's reticence, at the DNC 
Admire these villains for their artistry, perhaps, in crafting such seemingly harmless phrases as "black lives matter"—and matching them with others such as "love is love, "science is real," "women's rights are human rights," "no human is illegal"—that are so fundamentally dishonest.  But don't be stupid enough to gullibly fall for this deceptive nonsense on stilts.
These sort of ridiculous and insidious phrases deftly start out by straw-manning opponents' positions and completely misrepresenting them. As if Republicans believe science isn't real. As if accurately naming illegal immigrants either diminishes their humanity or presumes to speak to the totality of their being. And so on. 
The BLM rhetoricians proceed from bad to worse. Next up, after lying about and misrepresenting their opposition is … deliberate deflection and intentional disinformation about the reality of their own political positions and what they stand for.
They're like criminals caught at the scene of the crime who babble: Huh? We're just saying, love, peace, and that black lives matter! We're not about Marxism and damning white people!
They are liars. 
Recognize them for what they are and condemn them loud and plainly. 
By the time Biden finally condemned the rioting—in mid-September, when it had been going on for months—it was obvious that it was only in response to dropping polls, and that he was very reluctant to do it because he still refused to name the organization behind all the destruction. 
This spurred some brave media to point out the obvious, and chronicle past atrocities: "FLASHBACK: Black Lives Matter was Violent from the Start, and Media and Politicians Knew It." 
The official damage estimates from the riots at that point were $2 billion, but as Jon Miltimore, managing editor at the Foundation for Economic Education (FEE) noted, "Sadly, $2 billion in damage doesn't even scratch the surface of the long-term costs."  
Bizarrely, Michelle Obama chose that moment to launch a racist and lying attack on the nation for being concerned about BLM. The video below is excerpted from the actual speech she gave; the background video is inserted as satire to make clear how entirely out of touch with reality this poor woman is: 
Twitter already suspended the account that posted this. I'm not sure why? Let's guess… pic.twitter.com/WPXT5PRW08

— James Woods (@RealJamesWoods) October 7, 2020
The Long March Through the Institutions the left has successfully been carrying out for decades has very deliberately and carefully chosen to move itself forward with innocuous-sounding but deeply deceptive rhetoric.
just some of the issues at stake
Black Lives Matter, the Marxist organization that wants to radically reshape the world, was at one point earlier this year able to win the support of—that is, con, through deliberate deception of the organization's own real nature— almost 65 percent of the American people, who were tricked by both BLM spin and a willingly lying and complicit media into thinking the organization was just about caring for basic human decency, equal treatment, and caring equally for human life.
Except: The rhetoric was deliberately deceptive from Day One. And claims of abuse were all lies, as we shall shortly see, crafted to win undeserved sympathy and gain social power through victim status.
The very name of the organization Black Lives Matter miscommunicates. It doesn't accurately convey reality, which is what words are supposed to do. This is not a group about Black Lives Mattering at all. 
It is artfully crafted gibberish that effectively serves its intended purpose as a lie. The phrase was designed from the very beginning to dodge discussion, deflect, and falsely seize the moral high ground via fakery. Surface harmlessness hides the organization's actual intent and meaning.
Black Lives Matter is a radical political organization that is now a project of the Tides Center, in the middle of a massive political network with total revenues exceeding $636 million in 2018 alone and certainly in excess of one billion today.  Susan Rosenberg, a convicted terrorist, sits on its board of directors.
So, who really is Black Lives Matter? "[We] are trained organizers. We are trained Marxists" says Patrisse Cullors of herself and Black Lives Matter co-founder Alicia Garza in video on YouTube excerpted below.
Patrisse Cullors, the New York Post reports, says her "first political home" was the Labor/Community Strategy Center where she practiced "grassroots organization" to promote programs rooted in understanding of the "long history of anti-colonial, anti-imperialist, pro-communist resistance to the US empire"
Patrisse Cullors says she's a "trained Marxist" and she organizes programs rooted in the "long history of anti-colonial, anti-imperialist, pro-communist resistance to the US empire"
Black Lives Matter Lies About "Systemic Racism"
Black Lives Matter claims to be about many issues, as mentioned above, and since its run in a decentralized way—more like Islamic Imams who function with great autonomy in their own locale but who have no centralized authority in the way the Catholic Church has the Pope—one chapter might be focusing on one issue one month while another is emphasizing something else.
Moreover, after coming under recent scrutiny for its radical politics and proposals that are deeply at odds with the simple feel good phrases promoting caring about black lives, Black Lives Matter, like the Soviets before it, purged its history and mission statement from its website in late September, 2020.
But its central assertion has always, from the early Trayvon Martin, Michael Brown and Eric Garner demonstrations through the George Floyd riots this summers, been that United States police are systemically racist in their enforcement of the law.
This has been thoroughly debunked. As Heather MacDonald notes in The Myth of Systemic Racism, published in both the Wall Street Journal and City Journal, more blacks were killed by other blacks over the Memorial Day weekend in 2020 in Chicago alone than were killed by police in the entire nation during 2019. The myth of systemic racism is obviously a huge, huge con.
In 2019 police officers fatally shot 1,004 people, most of whom were armed or otherwise dangerous. African-Americans were about a quarter of those killed by cops last year (235), a ratio that has remained stable since 2015. That share of black victims is less than what the black crime rate would predict, since police shootings are a function of how often officers encounter armed and violent suspects. In 2018, the latest year for which such data have been published, African-Americans made up 53% of known homicide offenders in the U.S. and commit about 60% of robberies, though they are 13% of the population.
The police fatally shot nine unarmed blacks and 19 unarmed whites in 2019, according to a Washington Post database, down from 38 and 32, respectively, in 2015. The Post defines "unarmed" broadly to include such cases as a suspect in Newark, N.J., who had a loaded handgun in his car during a police chase. In 2018 there were 7,407 black homicide victims. Assuming a comparable number of victims last year, those nine unarmed black victims of police shootings represent 0.1% of all African-Americans killed in 2019. By contrast, a police officer is 18½ times more likely to be killed by a black male than an unarmed black male is to be killed by a police officer.
On Memorial Day weekend in Chicago alone, 10 African-Americans were killed in drive-by shootings. Such routine violence has continued—a 72-year-old Chicago man shot in the face on May 29 by a gunman who fired about a dozen shots into a residence; two 19-year-old women on the South Side shot to death as they sat in a parked car a few hours earlier; a 16-year-old boy fatally stabbed with his own knife that same day. This past weekend, 80 Chicagoans were shot in drive-by shootings, 21 fatally, the victims overwhelmingly black. Police shootings are not the reason that blacks die of homicide at eight times the rate of whites and Hispanics combined; criminal violence is.  (emphasis added)
Leonydus Johnson breaks it down for the twitter audience in multiple threads:
More facts. Completely and deliberately obscured by the narrative of critical race theory. https://t.co/OpJJMthfSG

— Andrew Sullivan (@sullydish) June 1, 2020
Here Johnson challenges the BLM crowd: Are you telling me blacks in Baltimore are oppressing themselves?
– Central District Police Major: black
– Southeastern District Police Major: black
– Eastern District Police Major: black
– Northeastern District Police Major: black
– Northeastern District Police Captain: black
– Northern District Police Captain: black

— Leonydus Johnson (@LeonydusJohnson) June 25, 2020
Systemic racism?

Are you telling me black people in Baltimore are oppressing themselves???

— Leonydus Johnson (@LeonydusJohnson) June 25, 2020
George Floyd—the police incident in May that set off riots that have been confirmed to have caused $2 billion in damage this summer—appears upon further examination to not in fact have even been killed by the police.
But assume for the moment Floyd was killed in just as horrible a way as was first charged.
Is it even remotely plausible to claim his death was a result of "systemic racism" in a nation where each year police have 375 million interactions with civilians, where "blacks are committing more than half of all murders and robberies while making up only 13% of the population," and where fewer unarmed blacks are killed by cops on a population-adjusted basis than unarmed whites? 
No, it is not. 
the deification of George Floyd;
the closer you look at BLM, the more echoes you'll see of a religious cult
Not one of these police killings of white men, each as egregious as anything that happened to George Floyd, led to a riot or widespread media notice. 
As Jason Riley noted in the Wall Street Journal in June of this year:
A recent New York Times report, for example, tells us that the racial makeup of Minneapolis is 20% black and 60% white, and that police there "used force against black people at a rate at least seven times that of white people during the past five years." Left out of the story are the rates at which blacks and whites in Minneapolis commit crime in general and violent crime in particular. Nor are we told whether there is any evidence that white and black suspects of similar offenses are treated differently. Minneapolis may in fact have issues with police bias, but drawing conclusions about the extent of the problem or even whether one exists would be premature based on the information provided.

Reports about race and policing that omit relevant facts to push a predetermined narrative are not only misleading but harmful, especially to blacks. We know from decades of experience that when police pull back, criminals gain the advantage and black communities suffer, both physically and economically. A common assumption among liberals is that the movement of inner-city jobs to the suburbs in the late 1960s is what led to the higher rates of crime, violence and other social pathologies associated with ghetto life. But this gets the order wrong. The business flight took place after the rioting, not before. Will history repeat itself?
Ask yourself: How many riots have you seen thrown in recent years over the police wrongly shooting white criminals?
The answer is almost assuredly zero. 
Do you imagine it's because police don't shoot unarmed and innocent white suspects?
If you do think that, you're naïve at best.
Quite a few white people meet horrible ends each year as a result of police mishaps.
Leonydus Johnson will happily tell you about quite a few of them that unless you've been making a point of paying attention to these things, you've probably never heard of.
Why do you think that is?
Time for a thread.

I'm tired of insufferable circus clowns who are unable (read: unwilling) to research for themselves. So, I will do it for them.

December 2019:
Matthew Krupar was shot and killed by police in League City, TX while he was assaulting an officer. He was unarmed. pic.twitter.com/IRsey5Zq8Y

— Leonydus Johnson (@LeonydusJohnson) August 28, 2020
[read the whole thing: Leonydus Johnson has some 20 other examples in his thread here]
He sums up:
Out of millions of arrests, police rarely kill anyone of any race but when they do, the suspect is almost always armed and/or fighting and resisting (i.e. a threat)

Although rare, the odds were greater that white suspects killed by police would be unarmed.

BLM is based on lies.

— Leonydus Johnson (@LeonydusJohnson) August 28, 2020
Reason Magazine covered several of these cases of cops killing white men in depth. They're all horrifying, and its coverage of the case involving Daniel Shaver was widely cited.
Arizona Cop Acquitted for Killing Man Crawling Down Hotel Hallway While Begging for His Life
Where are all the riots from white people? Shouldn't they be out there looting and setting fires? Seizing victimhood? Complaining about 60 years of anti-white racist affirmative action programs?
Not one of these police killings of white men, each as egregious as anything that happened to George Floyd, led to a riot or widespread media notice. 
It's not that no one has performed honest analysis. It's the mainstream legacy media doesn't want to tell you about it.
Many other journalists, commenters, and analysts have dug deep into the data and offered up thorough analysis. There's Ben Shapiro, here debunking a viral video on systemic white racism. 
There's Jason Riley at the Wall Street Journal penning pieces such as 'Black Lives Matter'—but Reality, Not So Much | The movement was founded on a falsehood. Scapegoating the police ignores the true threats to the urban poor and "No, Police Racism Isn't an Epidemic | The data don't show racial bias in police use of deadly force. A few viral videos don't prove otherwise")
There's Coleman Hughes, the African-American philosophy student at Columbia (see: The Myth of Systemic Racism, Stories and Data | Reflections on race, riots, and police)  —who was called to testify to Congress against the absurd idea of reparations. 
There are many, many other writers, academics, historians, and astute public figures who've taken a good faith look into Black Lives Matter claims. They've all combed through national and state-level police records, identified and studied the relevant data, done analysis to correlate the data with existing BLM claims, and demonstrated again and again that BLM is promoting a narrative about the existence of systemic racism against blacks by law enforcement pros that is at best, deeply misguided, and at worst, deliberately twisted and deceptive. 
Most of the con BLM is running isn't new, either.
Read John Dilulio in City Journal, 1996, on "My Black Crime Problem, and Ours | Why are so many blacks in prison? Is the criminal justice system racist? The answer is disquieting."
He cuts to the chase:
Yes, there are ways in which the justice system is failing all Americans, including black Americans. But to the extent that the justice system hurts, rather than helps, blacks more than it does whites, it is not by incarcerating a "disproportionate" number of young black men. Rather, it is by ignoring poor black victims and letting convicted violent and repeat black criminals, both adult and juvenile, continue to victimize and demoralize the black communities that suffer most of their depredations.
He adds:
The Sentencing Project and its supporters can pretend all they want that racism and the "war on drugs" have put too many harmless young black males in prison. But are racist drug laws responsible for the fact that weapons arrest rates during 1993 were five times greater for blacks than for whites? Do they explain the fact that 47 percent of all black men in prison in 1995 were in for a violent crime, and that most black state prisoners, like most state prisoners, have committed one or more violent crimes in the past? Do they explain the fact that the black men in prison for a drug crime were, like virtually all prisoners, repeat offenders with non-drug crimes on their rap sheets?

There are Washington monument-sized fallacies and contradictions in what the Sentencing Project and its allied spin doctors have argued about "1 in 3." For example, the system is supposedly "racist" because it hammers black drug dealers. But who wants them hammered? Look at the survey data on decriminalizing or legalizing drugs. Without fail, blacks are every bit as opposed to weakening anti-drug enforcement efforts as whites. Only 30 percent of blacks would even consider legalizing marijuana; virtually none will even debate legalizing harder drugs. My dear friend and former colleague Ethan Nadelmann is director of the Lindesmith Center and the country's leading proponent of turning down the volume on the drug war. His most vehement, unyielding critics are not middle-class whites led by right-wing Republicans. Rather, they are poor and working-class blacks led by folks like New York's black Democratic Representative Charles Rangel.
What Has Black Lives Matter Achieved?
Who the people and organizations are that support Black Lives Matter—and the likely reasons why they do—is fodder for an entirely different essay. The number is vast.
The racist BLM insurrection has co-opted and corrupted almost every major important national institution in America today.
Many of them are listed below. But first, let's look at what the movement has done.
How has it enriched American life and consciousness? By their fruits ye shall know them. What has BLM brought us?
We might start with the more than $2 billion damage from the George Floyd riots alone.
Then there's the wave of anti-racist literature described by leftist Matt Taibbi as "Hitlerian Race Theory."
Finally, there are the BLM founders, who, while drawing massive amounts of moral support and financial donations through deceptive promotion of saccharine phrases while quietly admitting that they're Marxists and their plans include destroying capitalism and the Western nuclear family, have upped their game with an even more audacious and outrageous attack. What's the attack?  They're now promoting "anti-racism."
It's an insane, nonsensical, deeply racist theory that's all about hating whiteness and masochistically attacking the very people the BLM movement is criminally wronging. Grounded in a dada-esque bit of silliness called "critical theory" that's been almost universally debunked and denounced by serious thinkers, "anti-racism" is taking over the best seller lists and conning F500 companies into paying Robin DiAngelo (author of "White Fragility") $6,000 to teach their white employees to hate themselves.  
Read "Critical Race Theory is a Victimization Cult." 
If cons sat around in con heaven, and drank heavily, and one guy came up with a proposal for running the sort of con that today's BLM movement actually is running, it would be universally dismissed by all those career criminals as totally implausible and impossible to pull off. No dupes out there are that dumb, they'd all say!  That wouldn't even pass as fiction. 
But it has.
People who laugh at the Dutch who, centuries ago, are alleged to have paid the equivalent of thousands of dollars for a single tulip bulb during the tulip mania have no ground to continue laughing at the imagined stupidity of the Dutch so if they're today supporting BLM.  
Wow.

This @axios graphic shows that the damage incurred during the post-George-Floyd riots will exceed that of any other period of rioting & unrest in American history. pic.twitter.com/8czl7fvqCm

— Brad Polumbo 🇺🇸⚽️ 🏳️‍🌈 (@brad_polumbo) September 16, 2020
What BLM has brought us since the dawn of existence group into three sets of results: 
destruction and lawlessness,
co-option and corruption of every sort of formerly respected national establishment and professional institution, and
the emergence and evangelism of a new dogma of wokeness—really, a new religion—whose core dogma is hatred of whiteness powered by "tricked-up pseudo-intellectual horseshit" (Taibbi).
Destruction and Lawlessness
This summer, the monument destroyers didn't stop with Confederate generals. They destroyed statues of Jefferson, Lincoln, Grant, Cervantes (WTF?!) and even George Washington himself.  There is no other word for this arson, looting, destruction than terrorism.
The Department of Justice has declared Portland, Seattle, and New York 'anarchist jurisdictions' because the Democratic governments in them are supporting the revolution and refusing to enforce basic existing U.S. law.
CNN reporter reports in front of a burning building in Kenosha with a chyron that reads "Fiery But Mostly Peaceful Protests After Police Shooting"

No, really
pic.twitter.com/VMUB3AdB3V

— Daily Caller (@DailyCaller) August 27, 2020
Check out the video. It's real!
Even as the scope of the devastation became clear, liberals, doing what they do, insisted the whole thing was mostly peaceful, as most infamously demonstrated by the CNN guy shown above. Some folks even did a study that claimed to show that the George Floyd sporting events were "93 percent peaceful" or some such. Jonah Goldberg explains why that's a silly sort of lie: 
But think about this for a second: In World War II, 16 million Americans served in uniform, but "only" 1 million saw combat. I was promised there would be no math, so I'm open to correction, but I think that means only 6.25 percent of American soldiers during World War II saw combat. Does that mean I can say that our participation in a globe-spanning deathmatch for the world's soul was 93.75 percent peaceful? And keep in mind, the denominator here is uniformed military. If you make it the total number of Americans—about 144 million during the height of the war—then World War II was 99.31 percent peaceful. If that's the case, then what was all the fuss about?
Corruption of National Institutions
This is where the horror of BLM becomes clear. The corruption of these institutions is almost complete, and they range the full width and breadth of establishment society. When '60s radicals were bombing the nation 50 years ago, they didn't have the full support of
A group of 1,000+ public health experts from prestigious medical schools like Harvard to powerful groups like the National Institutes of Health recently signed an open letter making the case that mass protests over the killing of George Floyd are "vital to the national public health and to the threatened health specifically of Black people in the United States." The letter illuminates an infuriating double standard, one that plunged the country into economic despair, mass unemployment, surging domestic violence, spiking suicides, and increased addictions.   —The Federalist, 6/5/2020
Democrats show their obeisance to the new woke religion. (Environmentalism must be jealous!)

How did we get to this point?!   
The lunatics are running the asylum. 
@SeaPubSchools's K-12 math ethnic studies frame work👇. I am really struggling with " who gets to say if an answer is right" in math. @kittypurrzog @wesyanghttps://t.co/yRLgeTVxFw
more info here: https://t.co/89R1bnXvVg pic.twitter.com/t6oQULPBoE

— 王启年 (@AYellowFolk) September 30, 2019
The Seattle Public Schools are teaching kids math is racist.
Really. Read all about it here and here. 
It is hard to keep up. That's why satirists like Titania McGrath have kind of gotten a free ride lately: They don't have to do much other than report on the actual news. The reality of the world today truly  is that crazy.
If you're not yet up to speed with some 120+ things that BLM and its cohorts have proclaimed racist, Titania's got the full list for you, and she is not making this up: She's brought receipts:
Each of these deeply problematic racist presences in our lives today (The Paw Patrol, Band-Aids, rice, The Golden Girls, nurses, butter, front lawns, botany, knitting, ice cream, soap, toothpaste, surfing, rock music, veganism, traffic signals, pancake syrup, Dr. Seuss, hockey, birds, Italian fashion, etc.) have all been reported, proclaimed, and affirmed in media such as The Guardian and the NY Times, as you'll see at the link.
Best-selling Racism Damns Whiteness.

The new "woke dogma"—informed by "critical theory," alternately presented as critical race theory or critical social justice theory and is a truly insidious lie—is anti-racism, as promoted by the likes of Robin DiAngelo in White Fragility or Ibram X. Kendi in How to be an Anti-Racist.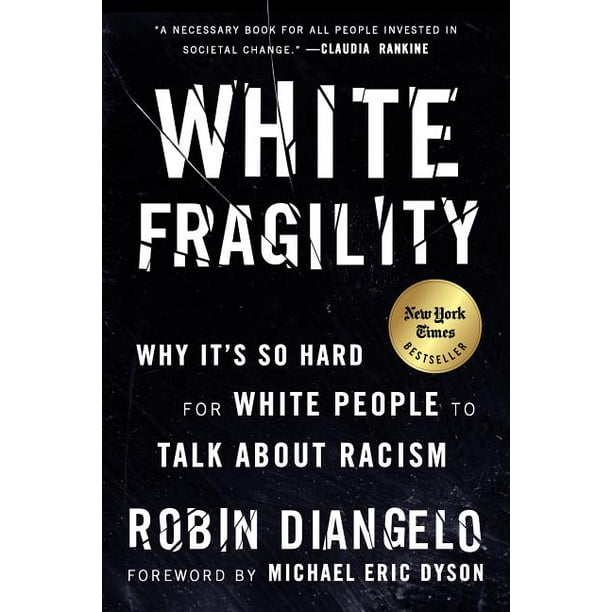 ever wonder why white people get so defensive when you accuse them
of racism and bigotry for no reason?
There is a tremendous amount to say in the course of damning every horrid aspect of "anti-racism."  But here's the short version: Read this one essay by famed leftist pundit Matt Taibbi, who characterizes it as "Hitlerian race theory" and explains exactly why White Fragility "may be the dumbest book ever written. It makes The Art of the Deal read like Anna Karenina."
Or maybe read this piece at The Atlantic by John McWhorter, who details "the dehumanizing condescension of White Fragility," a book that "aims to combat racism but talks down to black people." Or this piece by Jonathan Church at ArcDigital, pleading "White people please do not read White Fragility" sadly ruing that "a destructive book full of bad reasoning and bad advice is topping the bestseller charts." If you prefer video? Here's a YouTube video where Ben Shapiro offers up 7 Reasons Why White Fragility is the Worst Book Ever.
The anti-racist expression of critical race theory is critical race theory at its worst. 
Sean Davis, co-founder of The Federalist, offers a great summary of critical race theory here, and this tweet thread by James Lindsay is equally elucidating (read the whole thing!):
Critical Race Theory flashcards, #1. Collect and share. pic.twitter.com/TQXHFhw8aE

— Sexy James Lindsay, Halloween costume idea (@ConceptualJames) September 30, 2020
DiAngelo isn't the first person to make a buck pushing tricked-up pseudo-intellectual horseshit as corporate wisdom, but she might be the first to do it selling Hitlerian race theory. —Matt Taibbi
"Anti-racist arguments are tearing America apart," Conor Friedersdorf finally admits in The Atlantic, a magazine that for some years has been one of the more prominent cheerleaders for the movement.
If you want to know what Friedersdorf is talking about, watch two minutes of this video of a NY school planning meeting, where one woman, who sees another white participant in the Zoom meeting bouncing a child on his lap that he's babysitting, proclaim:
"It hurts people," she said, "when they see a white man bouncing a brown baby on their lap and they don't know the context! That is harmful!" she continued. "That makes people cry! It makes people log out of our meetings."
[NYC Community Education Council for Manhattan District 2" is mentioned in the video and serves more than 60,000 students spread across 121 schools.]
The world has gone mad.